Receptorul are 2 luni, functioneaza foarte bine atat pe cablu cat si pe satelit.
Stie 4K si Multistream, Kodi, Netflix, IPTV, etc. Are Wifi cu doua antene inclus.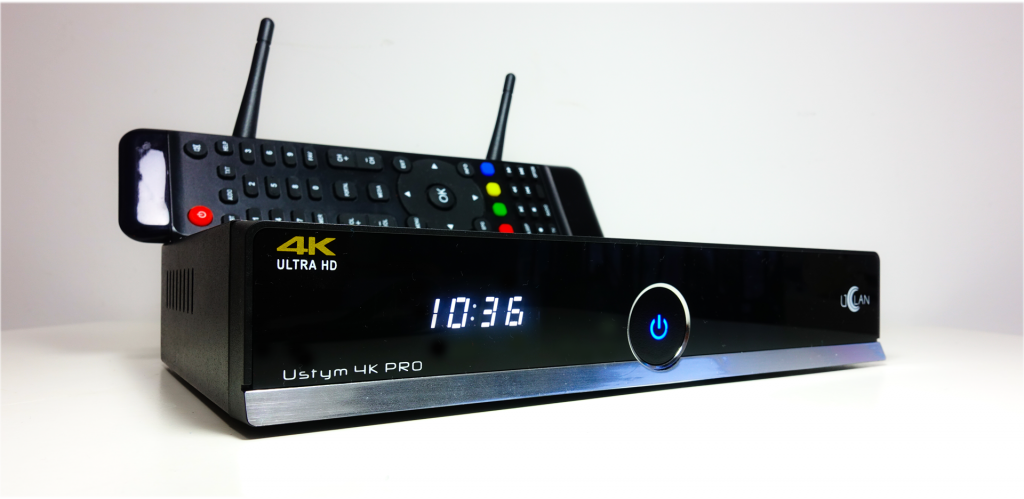 Description
Multimedia, multifunctional TV combine! Terrestrial TV (DVB-T2), cable, satellite (digital and analogue), Internet video and audio sources in one small box!
SET-TOP BOX Uclan Ustym 4K PRO
The heart of 4K PRO is a modern and efficient processor Hisilicon Hi3798MV200 from Huawei. Thanks to this, 4K PRO mouth has high performance and the ability to switch channels instantly.
Ustym 4K PRO has a software based on Enigma 2 Linux, which provides a wide range of possibilities to use a large number of plugins, picoons, widgets and skins and allows you to customize the receiver to your needs.
Key features:
Enigma2 Linux OS operating system
DVB-S2X 4K UHD reception
PIP HD and UHD function (picture-in-picture)
Search for BlindScan channels
Support for Kodi applications
HbbbTV
Media playback: 2160P H.264 and H.265
PVR recordings (when an external drive or MicroSD is connected)
USB 3.0 port
Current consumption 0.5W (stand-by)
Small dimensions: (DxSxW) 220 mm x 125 mm x 40 mm
Characteristics:
Processor Hisilicon Hi3798MV200 Huawei
Quad Core 64Bit (4x 1.6 GHz) 15 000 DMIPS
RAM memory 1 GB DDR4
eMMC flash memory 8 GB
LAN 1GB Gigabit Ethernet (1000 Mbps)
Built-in 300 Mbps WiFi module, 2x WiFi antennas
7-segment display
Conax card reader with full OSCAM
DVB-S2X head
DVB-C/T2 head
HDMI 2.0
USB 3.0
MicroSD card slot
Front panel:
Infrared sensor (infrared receiver)
4-digit 7-segment display
On/off button with LED backlight (blue/red)
Right side panel:
USB 3.0 port
Card reader (CA CARD)
Back panel:
WiFi: 2x WiFi antennas
LNB input of DVB-S2X tuner
Input for H.265 HD DVB-C / T2
Dolby S-PDIF
AV – Audio Video Jack – Jack to RCA
RS-232 socket (maintenance and service)
HDMI 2.0a output
LAN 1GB Gigabit Ethernet (1000 Mbps)
USB 2.0 port
MicroSD slot
Recovery button
DC-12V power supply
Power on/off switch
Contents of the set:
Receiver Uclan Ustym 4K PRO
Remote control (without batteries)
12V power supply unit
Pret 100 euro + transportul oriunde in Romania cu Urgent Curier.
La cerere se pot aduce mai multe bucati